A recent telephone call from a volunteer brought us a wonderful testimony to answered prayer.
About 5 years ago the Clearinghouse called to ask if we could help a family in our community trim some shrubbery, clean out gutters, and a few other things outside.
We asked our Small Group from church to help, and over the next several years we kept in contact. During that time the husband of the family was moved to a nursing facility as he experienced worsening of a progressive illness.  I made quite a few trips to take his wife to visit him, as well as taking her out for coffee and grocery shopping. I was able to share with her God's Love and I sensed she understood.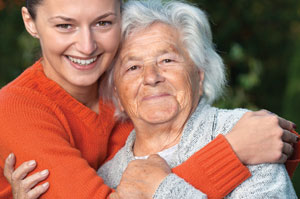 About two months ago she called and said she needed help with some work in her home. I couldn't do it but I got several men from our congregation to do the job.  I could tell by the sound of her voice – she was so grateful!   We planned to go out for coffee again but God had another plan, and I ended up taking her to see her husband.  I decided to go in to visit him too, but didn't know if he'd remember me. His wife didn't even know how he would respond to her, since he's been legally blind for some time and struggles with dementia, so we prayed for "a smile" from him before we went in. When we got to his room, she introduced me and he knew who I was –  he even asked how my kids were – and then he smiled.   What an answer to prayer!  We also prayed together before we left.  I gave his wife a CD to listen to, and as she hugged me and cried, she said "I love you."  When I got back in my car I just wept because I felt like God had planned everything and I planted the seed. I'm looking forward to what God has for us the next time we meet!
Thank you, God, for working through Love INC so that we could develop a new friendship, while serving as the hands and feet of Jesus!